— DECEMBER 2021 —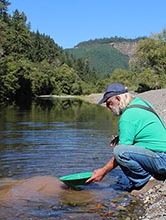 EARLY IN THE summer of 1853, deep in the Coquille Mountains of what's now Douglas County, six U.S. soldiers were trudging dispiritedly through a trackless wilderness.
The wilderness wasn't totally trackless, though, because that's what the soldiers were there to do: scout a route through the mountains, from Port Orford to Jacksonville.
The problem was, they were lost. The track they were scouting wasn't going anywhere until they figured out how to get un-lost. And they were almost out of supplies, so if that didn't happen soon, they'd all starve to death.
As evening approached, Lieutenant George Stoneman called a halt. "We may as well camp here for the night," he said.
So the men set about making their camp. Private Manley Martin was sent down to the creek for water while the others — Sergeant Mann and Privates McKenna, Schlisk, and Schnedicker -- set about the usual tasks: fire, bivouacs, etc.
Down at the creek, Private Martin was filling the canteens when he saw a glint of yellow in a rock in the streambed. Drawing his saber, he used it to pry the rock loose, and then he picked it up. It was white, with a streak of yellow running through it. ...
(to continue reading, click here)
Your browser does not support the audio element.