Heroes and rascals...
shipwrecks and lost gold ...
Welcome to Offbeat Oregon History, a public-history resource for the state we love. Here's what you'll find here:
A weekly newspaper column published in about a dozen Oregon community newspapers;
An archive of columns we've published since 2008, with pictures (see table on this page; they're arranged by date of first publication);
A thrice-weekly podcast (7 to 12 minutes long) optimized for mobile-device listening via iTunes, Stitcher, or the podcatcher of your choice;
A weekly RSS feed optimized for smartphone newsreader apps like Pulse or Feedly;
Enjoy! And if you have any comments on stories, suggestions for column topics or other feedback — or if you're coming by the OSU campus and have time for a cup of coffee with a fellow history dork — drop me a note at fj-@-offbeatoregon-dot-com any time!
Other years' columns, etc.:
One-term governor had a team of secret agents working for him, trying to subvert labor unions and ferret out communists; but most of their efforts seemed to end up scoring points for the "other team."
To play podcast version:
Regular motorists would swing by streetcar stops and offer to take passengers faster and in greater comfort for the same nickel. But the competition enraged the powerful plutocrats who owned the streetcar company.
To play podcast version:
It's probably just as well that no actual dinosaur bones were found here; the spiteful, unprofessional "cowboy paleontology" practiced by O.C. Marsh and E.D. Cope would have left Oregon's pioneer scientists profoundly unimpressed.
To play podcast version:
Before he made it back, Art Lacey had survived a plane crash, bribed a fire department with illegal whiskey, kited a big check and made bitter enemies in Portland City Hall. But hey, all's well that ends well, right?
To play podcast version:
At great personal risk, Coast Guardsmen had to rescue the skipper twice, because he insisted on staying aboard the stranded steamship to defend its cargo from marauding salvagers..
To play podcast version:
Below decks, a chemical fire burned freely through the hold of the Challenger; above deck, her crew worked desperately in a hurricane windstorm to find a port they could put into before the fire broke through the deck.
To play podcast version:

Thomas B. Slate first invented the commercial production process for making dry ice, then took his new-made fortune and used it to re-imagine airship travel in an almost unbelievably "steampunk" way.
To play podcast version:
If so, the Linn County lad might have revolutionized air travel. But a launch-day disaster ruined his prototype, the Great Depression scared off all his investors, and the Hindenburg disaster ended the era of airship travel.
To play podcast version:

Portland native Jack Reed was the only American buried in the Kremlin wall; his enthusiasm for the Bolsheviks was cooling toward the end, but after he died they gave him a state funeral and declared him a martyr to the revolution.
To play podcast version: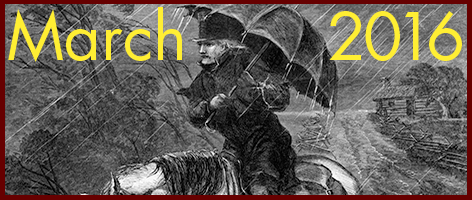 Eagerly, the Reverend leaped into the waiting bathtub, positioned at the top of the stairs in the chilly foyer of the frontier hotel. And then, to his horror, he realized it was sliding toward the top of the staircase on a sheet of ice ....
To play podcast version:
When trying to minister to the spiritual needs of a crowd of hard-sinning miners and sailors, it was sometimes necessary to resort to unorthodox tactics — tactics not often seen among men of the cloth in more civilized times.
To play podcast version:
The Reverend preached the funeral service to an empty church, while the deceased's friends and colleagues fought in the parking lot over who got to ride in the taxicabs. But the hostilities were forgotten when they arrived at a roadhouse.
To play podcast version:
The Rebel sympathizers resented the Union soldiers taking all the seats when Vaudeville star Susie Robinson of Corvallis took the stage. The soldiers wouldn't back down. Then somebody pulled a pistol ... and the battle was on.
To play podcast version:
Other pioneering Oregonians worthy of having bridges and mountains named after them include attorney Mary G. Leonard, historian Frances Fuller Victor and physician Bethenia Owens-Adair.
To play podcast version:
Not many people know it, but Oregon had the first female governor (in 1909), first female sworn police officer (in 1908) and first female stagecoach driver (in the 1860s).
To play podcast version:
In the first half of the 1800s, mainstream medical doctors were not very trusted; travelers on the Oregon Trail relied more on herbal remedies or cold water.
To play podcast version:
The basic idea: Mix a few dramatic ingredients like whiskey, red pepper and laudanum, stick a label on it; hawk it on streetcorners as a universal medicine; and leave town before the suckers can get wise.
To play podcast version:
Local swindler's anti-impotence scam brought him and his company to national attention; but it wasn't until he added a quack birth-control remedy to his line that he was busted and jailed for his fraud.
To play podcast version:

An autocratic populist from southern California, arriving in Medford in a flashy Cadillac, managed to position himself as a leader of the poor and disenfranchised. The results would rock the county, and the state, to the core.
To play podcast version:
For leaders of the "Good Government Congress," the Great Depression was a golden opportunity to crystallize popular bewilderment into hatred that could be used to grab for power. And it worked ... too well, as it turned out.
To play podcast version:

The "Jackson County Rebellion" faded away after political boss Llewellyn Banks shot a policeman with a .30-06 during an attempted warrant service. Coverage of the whole debacle won the Medford Mail-Tribune a Pulitzer Prize.
To play podcast version:
Talented actress could dilate a pupil at will, dislocate joints, fake broken ribs and get her gums to bleed on demand. She was so good, railroad claims agents actually formed a national association just to share info about her scams.
To play podcast version:
Two decades later, the cult, now named "Heaven's Gate," would make national headlines by committing mass suicide in hopes that a UFO hiding behind Comet Hale-Bopp would carry them away to Planet Heaven.
To play podcast version:

Whatever happened to the S.S. Drexel Victory as she steamed across the Columbia River Bar that day sent her to the bottom in little more than an hour, but everyone survived. Had it happened during a storm in mid-Pacific, though ...
To play podcast version:
The combination of bitter cold air and relatively warm river water acted on the S.S. Schenechtady's brittle welded-steel plates like boiling water poured into a cold Mason jar. The results were similar, but on a massive scale.
To play podcast version:
Local authorities were stumped; the entire nation was watching, and the most likely suspect, a uniformed U.S. Marine, was already being hailed a a heroic would-be-rescuer in the press.
To play podcast version: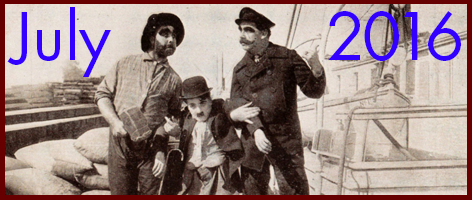 Apparently desperate to avoid charging a uniformed U.S. Marine with the crime, prosecutors sought a scapegoat to pin the murder of Martha James on. They found one, and they had to work really hard to make it stick ... but they got it done.
To play podcast version:
The railroad, the local police agencies, and the U.S. War Department all desperately wanted to prosecute somebody, anybody, just not the young Marine who almost certainly was young Martha Brinson James' actual killer.
To play podcast version:
Four mariners on the sailing ship Arago, in Astoria, tried to quit and were tracked down by police and forced to return to work, like runaway slaves. When they sued, the Supreme Court issued an astonishing ruling against them.
To play podcast version:
Was the shooting of Donald Newhouse the action of a Union thug, related to the strike at the Oregonian and Journal? Or was it a cuckolded husband taking revenge in a case of mistaken identity?
To play podcast version:
But the strike enabled Oregon Journal's trustees to sell the paper, in defiance of its former owner's direct bequest, to the owners of the Oregonian; the result was an outsider-owned daily-newspaper monopoly that continues to this day.
To play podcast version:
Rudolph the Red-Nosed Reindeer's shiny nose would have been the only light showing on the Oregon Coast after the Pearl Harbor attack; unable to see its position, the ship piled onto the beach at full steam.
To play podcast version:

The highway engineer in charge of getting rid of a big stinky dead whale on the beach miscalculated the amount of dynamite he would need. The result was a spectacular event that has become a true Oregon legend.
To play podcast version:
Loaded with ordinance and launched by the thousands on the jet-stream currents, the weapons were a much bigger threat to American citizens than most now realize — and one of them probably started the 1945 Tillamook Burn.
To play podcast version:
The century-long quest to make the Columbia River Bar reasonably safe got off to a rough start in 1853, when the ship bringing construction materials for its first lighthouse became one of its early victims.
To play podcast version:
Governor Charles Henry "Iron Pants" Martin may have saved the world from a Nazi nuclear holocaust by outplaying President Roosevelt, essentially forcing him to finance a hydroelectric dam that he thought was superfluous.
To play podcast version:

As the fishery collapsed, canneries on the upper river near Cascade Locks and gillnet fishermen on the lower river near Astoria blamed one another; both were right, but the biggest culprit was Grand Coulee Dam.
To play podcast version:

He couldn't claim all the credit for it, although he sometimes tried; and his attitude toward Native Americans was unfortunate. But those who love Crater Lake, in large part, have William Gladstone Steel to thank for it.
To play podcast version:
Even today, after 135 years, the lawless era of vigilantes and rustlers and six-gun justice meted out by "Judge Lynch" is evoked by the words on an old Klamath Falls tombstone: "Murdered by Masked Assassins, June 24, 1882."
To play podcast version: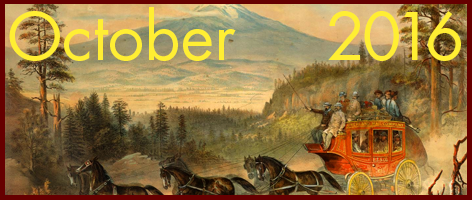 Fourteen thousand years ago, in a cold dry cave deep in the "Oregon Outback," someone answered a "call of Nature" — leaving behind a hefty load that, toda, is the oldest evidence of human habitation on the West Coast.
To play podcast version:
Only after the body was handed over to the undertaker did the truth come out: The roughest, toughest, most skillful "whip" on the West Coast was not what he appeared to be.
To play podcast version:
For the art students and pop-culture aficionados lined up, the once-in-a-lifetime chance to see and meet the "Peter Pan of Pop Art" turned out to be merely a chance to be the butt of one of his irreverent pranks.
To play podcast version:

Russell Hecker borrowed a friend's car to make a quick liquor run. He brought it back 12 hours late and covered with blood — and there was no sign of the man he'd gone on the run with the previous night.
To play podcast version:

Thomas Condon didn't set out to become a geologist; he was a Congregationalist minister with a hobby of collecting fossils. And although over the years his hobby took over, he never lost touch with his ministerial kindliness.
To play podcast version:

Everybody had gold in Jacksonville, and nobody wanted to pack it around, and the bank had no access to outside markets where it could be invested. So, instead of paying interest, they charged a storage fee on all deposits.
To play podcast version:
A poorly engineered jetty was installed at the mouth of Tillamook Bay changed the ocean's currents, and over the following three decades the sea relentlessly scoured away the town. Today, no trace remains of once-thriving Bayocean.
To play podcast version:

The little company town was located smack in the middle of the country's most productive tree-growing land; so, in the 1980s, the company drained its lake, bulldozed it into a pile, torched it, and replanted it with trees.
To play podcast version:
When the sheriff arrived to enforce the law, he brought with him a pro-temperance preacher from one of the local churches — whose presence seems to have sparked a murderous response from the man he'd come to arrest.
To play version:
No one knows for sure what the "Beeswax shipwreck" was, but if it was the San Francisco Xavier, there may be more than just chunks of 300-year-old wax buried in the sands off Nehalem Bay.
To play podcast version:

Created and priced as a luxury line to compete with coal-fired steam trains, the railroad collapsed rapidly after automobiles came on the scene. Would a cheaper, less opulent service have survived?
To play podcast version:

Arguably, the outcome of World War II became inevitable on the day the S.S. Star of Oregon slid into the Columbia River. It was followed by a torrent of new ships — far more than the Nazis could ever hope to sink.
To play podcast version:
After out-of-state interests overplayed their hand and showed how little power locals had in their own state, Populists and renegade Republicans got together to do something about it. The result: The initiative-petition system.
To play podcast version: