Oregon had the first female governor in U.S. history — for one weekend, in 1909
When Carolyn B. Shelton took charge of the state for 48 hours, she and other Oregon women were still three years away from gaining the right to vote.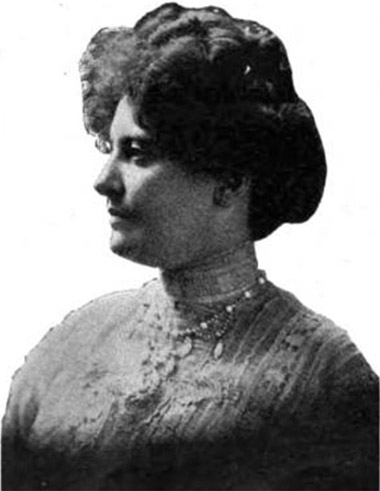 This portrait of Governor Carolyn B. Shelton ran in the
May 1913 issue of National Magazine. (Image: National Magazine)
By Finn J.D. John — March 27, 2011
Ask most Oregonians who the first woman governor was, and they'll have an answer right away — a wrong answer.
Conventional wisdom holds that Barbara Roberts was the first and only female Oregon governor. In fact, that's almost true … but "almost" doesn't work as an answer to a true-or-false question.
The truth is, Roberts was the first elected female Oregon governor. The first woman to serve as governor of Oregon was Carolyn B. Shelton, who essentially covered a weekend shift for her boss in early 1909.
For that one historic weekend, Oregon was the first and only state in the nation with a female governor. This was especially ironic, because it wasn't until 1912 that women officially won the right to vote in Oregon.
Here's the story:
Outgoing governor Washington-bound
In 1909, outgoing governor George Chamberlain had been elected to the U.S. Senate. The freshman crop of senators would be sworn in and seated on Monday, March 1 — the same day his successor, Frank W. Benson, would be sworn in as governor of Oregon.
The problem was, if Chamberlain stayed through the end of his term and then traveled to D.C., every other member of that freshman class would have seniority over him, because he'd be sworn in late.
So Chamberlain resigned as governor and left for Washington two days early, on Saturday, Feb. 27.
Ordinarily, this would have been neatly arranged with his successor, Frank W. Benson. Benson would come in early as Acting Governor and, come Monday morning he'd be sworn in for real.
Incoming governor calls in sick, so Shelton "covers his shift"
Governor George Chamberlain, Carolyn B. Shelton's
boss. Image: Oregon Historical Society. [Larger
image on OHS Website: Click here]
But Benson was too sick to do it. So Chamberlain left his trusty "chief of staff," Carolyn B. Shelton, in charge as "Acting Governor" and climbed aboard an eastbound train.
By Monday morning, Benson was feeling better. At 10 a.m. he was sworn in, and Shelton's one-weekend gubernatorial reign was at an end. As far as I've been able to learn, nothing much happened during her 49 hours in office — but if anything had, she would have been the state's chief executive in charge of dealing with it.
Two ex-governors marrying each other
As a side note, 17 years after this incident, Chamberlain and Shelton got married. At the risk of stating something really obvious, this is the only case of two Oregon ex-governors marrying each other in history. In fact, it's probably the only such case in all of U.S. history, in any state.
(Sources: Long, James Andrew. Oregon Firsts: Past and Present. North Plains, Ore.: 1994; "Milestones," Time Magazine, July 26, 1926)

TAGS: #PEOPLE: #doers #progressives #women #politicians :: #EVENTS: #political #historyChanged :: # #first #famous :: LOC: #marion :: #120